Created in 1997, JLB Expertises Ivory Coast is the oldest company of JLB Expertises in Africa and is organized through two offices in Abidjan and in San Pedro and two laboratories. More than 100 employees are working at JLB Expertises Ivory Coast. Bruno TOUSSAINT is the director of JLB Expertises Ivory Coast and supervises the activities of the offices.
JLB Expertises Ivory Coast surveyors and supervisors are all trained to do surveys on various imported goods (rice, sugar, frozen products, etc.) and are able to monitor unloading operations of breakbulk and bulk cargo. The capacity of our staff to travel enable us to appoint them to sites within the country or to assignments within the sub-region.
JLB IC also works on the main agricultural products exported from Ivory Coast : cocoa, coffee, sugar, cashew nuts, bananas, ananas, mangoes, cotton… JLB Expertises IC is very active in controls of exported cocoa (prevention, quality control, weighing controls, etc.).
Rachel MIESSI, Agricultural Engineer graduated from INPHB, and Fanny SALAS, Agricultural Engineer graduated from AgroParisTech, deliver and develop our projects related to the sustainability of the cocoa sector.
To cope with the need of cocoa exporters to ensure quality and traceability of their merchandise, JLB has chosen to develop a quality analysis activity. It is also the way to offer a complete service from stuffing sites to boarding. It is equipped with two laboratories (respecting the FCC norms) for quality controls on cocoa (Abidjan and San Pedro).
The laboratory of Abidjan, created in 2014, is managed by Bakhita YEO, Agricultural Engineer. The port of San Pedro is the largest in the world for Cocoa, so we quickly set up a laboratory next to our local agency in 2015. We mainly do quality analysis of cocoa for export, but also coffee or cashew. We offer both physical and chemical analyzes.
For cocoa beans, we can proceed to the following analyzes:
Measurement of humidity, bean count, cut test, foreign matters, clusters, flat beans, chemical analyze of FFA (Free Fatty Acid)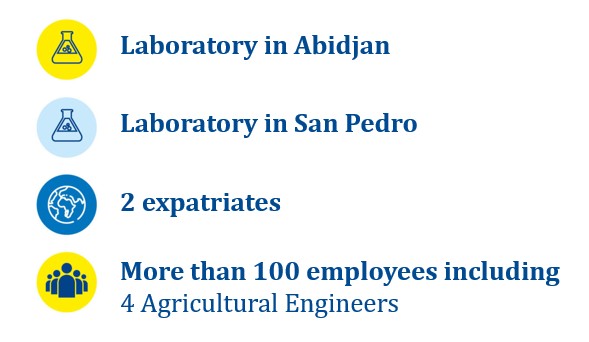 ISO 9001 Certification : Recognition of the quality of service of JLB Expertises Ivory Coast
Since 2021, the quality management system of JLB Expertises Ivory Coast has been evaluated by AFNOR Certification as conforming to the requirements of the ISO 9001 "Quality Management systems" standards for prevention, monitoring, control and survey.
Honouring customer requirements whilst continually improving the quality of our services : the quality management system reflects the strength and efficiency of JLB Expertises Ivory coast, dedicated to its partners and customers.